More About Me
---
This is about me and things I like and fun places you can go.
---
---

I got a really awsome birthday card by email mail from my mom's friend!! He's really cool and nice cause he made the picture on the top of my home page for me!!! Did you look at what's on the computer screen in the picture? That is so awesome!

I saw a

game in person when it was in Chicago. Susan is my best freind. Her dad was my soccer coach but now we're on a new team. I have a cat and he's all black and he loves to be rubbed. I just got a new kitten named Rusty cause that's the color he is. Here is a page that has lots of pictures of cats.
My favorite movie is Aladdin. I found pages with the words to all the Disney movie songs. I like Mariah Carey alot. You can read the wordsto her song Hero.
I like to watch Full House and Step By Step and Thunder Ally. My freind Shannon found the page for Full House but I found the page for Clarissa Explains it all and that's one of my favorite shows. On Nick I like The Secret World of Alex Mack

and Are You Afraid of the Dark (but not if I have to watch it by myself). I wish those shows had pages. I like the Animaniacs and Taz-mania too.

Here is Dot.

and Yakko.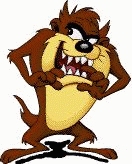 and Taz!!!!
If you hear this sound you better get out of the way fast. I hope your not a coyote!.


Click here but be VERY quiet!

Just in case don't eat any ice cream now.
---
---
updated 3/24/97